MailManager will help you to improve communication with your subscribers by making it easy to get feedback.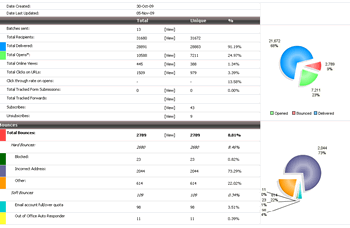 Surveys make it easy for your customers to give you feedback
Paper based marketing offers limited opportunity for customer feedback. Use the MailManager survey creator to email surveys and questionnaires to your subscribers. Surveys can contain an unlimited number of multiple choice, yes/no, true/false or free text questions. MailManager will even automatically compile the responses for you.
Log in at any time to see who has taken the survey and how they responded. View results in both textual and graphical formats. Export survey results for use in statistical packages.
Live Reporting
Log in at any time to see how many of your subscribers have read the emails that you have sent them.
Report on the number of times each subscriber clicked on URLs in the email. View detailed reports about which URLs were followed and which were not.
View a summary comparing how many emails each subscriber has received and read.
Track a viral marketing campaign, viewing the number of forwards in each generation.